---
Art exhibition "ODE TO PEACE"
December 4 to January 31, 2008 at the Museum of European Art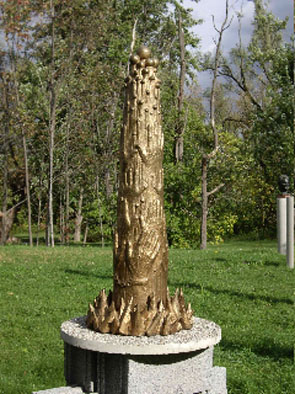 ODE TO PEACE, a bronze sculpture by Renate Stendar. This will be one of the first works to be installed in summer 2008 in the future Alexander Sculpture Garden in Clarence, New York.
Photo: meaus
Clarence/New York (meaus) An impressive selection of works of Renate Stendar is currently on exhibition at the Museum of European Art in Clarence, New York. Although the artist, who spent many years in Switzerland, is both a sculptor and painter, only sculptures and reliefs in bronze and stone are show on this occasion.
The main artwork, which gave title to the exhibition, was inspired by Beethoven's famous Ninth Symphony, Ode to Joy. "Actually, it was originally titled ODE TO PEACE", said the artist. "And if you read the words of this poem, it really makes much more sense if you replace the word JOY with PEACE. Back then, the change was made on the last minute, for political reasons ..", explained the 87-year old artist.
Other works by Stendar included in the exhibition are "St. Christopher", "Knight, Death and Devil", "Hope", "Expectation", "Yin and Yang", "Harp of Aeolis", "Undine", "Caller in the desert", and others.
Works of several other European artists are also included in this exhibition: paintings by the Montserrat Barenys from Spain, sculptures by Kurt Arentz (Germany), Marc Chagall (France), Salvador Dalí (Spain) and others.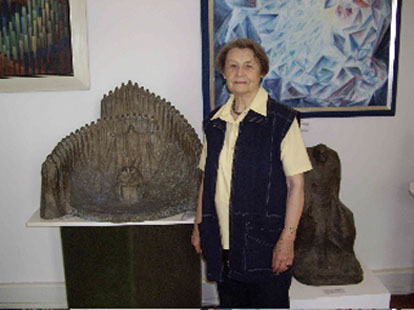 The sculptor Renate Stendar with some of her works on exhibition at the Noervenich Castle near Cologne in Germany in the summer of 2007.
Photo: meaus
The exhibition runs from December 4 to January 31, 2008, Monday to Friday, 10 am to 5 pm. Free admission.
Museum of European Art, 10545 Main Street, Clarence, New York 14031. Tel. 716-759-6078, e-mail: info@meaus.com
---
ODE TO PEACE
By Friedrich von Schiller

O friends, no more these sounds!

Let us sing more cheerful songs,

more full of joy!

PEACE, bright spark of divinity,

Daughter of Elyseum,

Fire-inspired we tread

Thy sanctuary.

Thy magic power re-unites

All that custom has divided,

All men become brothers

Under the sway of thy gentle wings.

Whoever has created

An abiding friendship,

Or has won

A true and loving wife,

All who can call at least one soul theirs,

Join in our song of praise;

But any who cannot must creep tearfully

Away from our circle.

All creatures drink of PEACE

At Nature's breast.

Just and unjust

Alike taste of her gift;

She gave us kisses and the fruit of the vine,

A tried friend to the end.

Even the worm can feel contentment,

And the cherub stand before God!

Gladly, like the heavenly bodies

Which He set on their courses

Throught the splendor of the firmament;

Thus, brothers, you should run your race,

As a hero going to conquest.

You millions, I embrace you,

This kiss is for all the world!

Brothers, above the starry canopy

There must dwell a loving Father.

Do you fall in worship, you millions?

Seek Him in the heavens!

Above the stars He must dwell.
© PROMETHEUS 126/2007
PROMETHEUS, Internet Bulletin - News, Politics, Art and Science. Nr. 126, December 2007