---
The Persian poet Sa'di Shirazi
By B. John Zavrel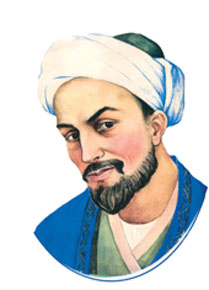 The Persian poet Sa'di Shirazi is the author of 'Boustan' (The Orchard) and 'Golestan' (Tho Rose Garden).
Teheran/New York (meaus) For the first time, a bilingual German-Persian anthology of quatrains by the renowned Iranian poet Sheikh Moslehuddin Sa'di Shirazi will soon be released in German-speaking countries.
Translated by Khosrow Naghed, the book includes 92 poems and has taken over two years to complete.
"Last year I signed a contract with a German publisher to release the book concurrent with the 2008 Frankfurt Book Fair in October", said the translator. He added that original poems in Persian will be designed in calligraphy styles. "I have compiled the book based on the eloquent translations of Sa'di's sonnets by the German linguist and poet Friedrich Ruckert.
The translator, who has also rendered Khayyam quatrains, believes that such undertakings will help improve cultural interaction between the East and the West. "I try my best to make German readers acquainted with Iranian culture and Persian literature through my translations," he said.
Born in Shiraz in 1194 AD, Sa'di is recognized as one of the most eminent poets in the history of Persian literature. His best known works are Boustan (The Orchard) and Golestan (The Rose Garden).
'Boustan' is entirely in verse, and consists of stories aptly illustrating the standard virtues recommended to Muslims as well as reflections on the behavior of dervishes and their ecstatic practices.
'Golestan' is mainly in prose, and contains stories and personal anecdotes. The text is interspersed with a variety of short poems, containing aphorisms, advice, and humorous reflections. Sa'di demonstrates a profound awareness of the absurdity of human existence.
© PROMETHEUS 131/2008
PROMETHEUS, Internet Bulletin - News, Politics, Art and Science. Nr. 131, May 2008