Home
|
Alexander Order
|
Articles
|
Latest News
---
L'Ephèbe d'Agde and Alexander the Great
Museum exhibition and a meeting of the Alexander Order
By B. John Zavrel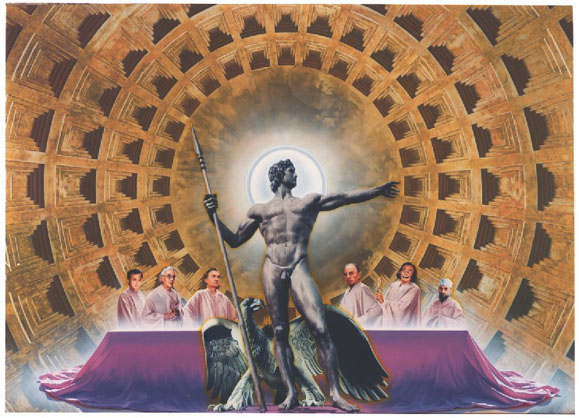 Le Festin d'Alexandre le Grand: a painting at the Noervenich Castle, the residence of the Alexander Order in Europe. In front: Bronze of Alexander by Pierre Peyrolle. On the right of the table are to be seen the Knights of the Order: Arno Breker, Salvador Dalí and Ernst Fuchs. On the left side are: Joe F. Bodenstein, the Grandmaster Roger Peyrefitte, and Alexandre de Villiers (Lord Keeper of the Privy Seal).
© OAG / Marco-VG
New York / Agde / Berlin (bpb) Le Musée de L'Ephèbe at the town of Agde (France) intends to pay homage to Alexander the Great in 2006. A grand opening of an art exhibition is planed to show archaeological objects, sculptures and craftsmanship from Alexander's era until our time. For this project, the town of Agde got inspired by a precious fine bronze sculpture of a youth, which had been found in the nearby sea in September, 1964. The Ephèbe d'Agde is supposed to be an ancient work, depicting the youthful Alexander.
The Order of Alexander the Great, renewed by the French writer Roger Peyrefitte in 1990, has announced a meeting at the Noervenich Castle in Germany in May, 2006. At this event new Knights will be admitted to the Order, in memory to Alexander the Great (born 356 Pella; died 13.06.323 B.C., Babylon). The documents will be signed by the present Grandmaster, Dr. Wilson Greatbatch (USA).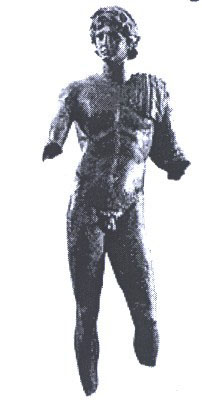 Ancient bronze sculpture of the Musée de l'Ephèbe in the town of Agde (France). An archaeological masterpiece of the eternal beauty of youth.
© Le Musée Agde
Beside the exhibition in Agde, the Alexander Order will present a special exhibition "Alexander in Art of our Time". Masterpieces will be a large paint "Le Festin d'Alexandre" by Pierre Peyrolle (Paris) and the Portrait of Alexander the Great, created by the sculptor Arno Breker (1900-1991). John G. Bodenstein, the Lord of the Noervenich Castle, is the curator of this exhibit. "It is fascinating to see the great interest of painters and sculptors of our time to make portraits of this historical personality, more 3,300 years after his death.
The late German-French writer Ernst Jünger, Knight of the Order, remembered: "The life of Alexander the Great was often discussed in our family. And it is admirable, what this man has achieved in his short life of only 33 years. Jünger died at the age of nearly 103 years on February 17, 1998.
The Order of Alexander the Great under the patronage of the late King Paul II. of the Helenes, has the goal to keep Alexander in fond remembrance. The meeting of the Alexander Order in 2006 will include an Alexander Dinner, with food of Alexander's time.
The Alexander Order is an idealistic, not-for-profit association. Among its late members are Salvador Dalí, Jean Cocteau, Peter Moore, Sir Peter Ustinov, and Hermann Oberth.
Honorary members are men and women of art, science, business, students, intellectuals and members of royal families. One can apply for membership from the age of 18 years. Inquires are to be send to info@europaeische-kultur-stiftung.org
© PROMETHEUS 100/2005
Keep informed - join our newsletter:
PROMETHEUS, Internet Bulletin for Art, News, Politics and Science. Nr. 100, OCTOBER 2005