---
Edward Tabachnik at the Togo Salmon Exhibition
By B. John Zavrel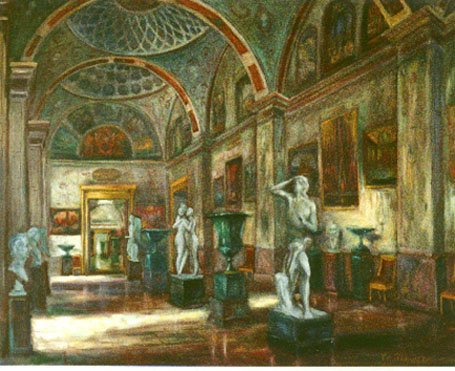 'GALLERY.SMALL HERMITAGE', oil on canvas by Edward Tabachnik from Toronto.
The Toronto painter Edward Tabachnik was one of the artists taking part in the Togo Salmon Centenary Exhibition titled "The Classical World and Its Influence" at the McMaster University in Hamilton, Canada. The art exhibition honoring the life and work of Togo Salmon was curated by Dr. Howard Jones. The exhibition took place from September 4 to October 30, 2005 at the McMaster University in Hamilton, Canada.
The exhibition honored the English-born Edward Togo Salmon (1905-1988) on the occasion of his 100th anniversary. In 1912 he was sent to study in Australia, and later on continued his higher education at Emmanuel College in Cambridge, from which he received the degree of Doctor of Philosophy. Since 1931 he as lectured at the McMaster University in Toronto, and later at its new location in Hamilton. He was a life-long student of classical antiquity. His first book, 'A History of the Roman World from 30 BC to AD 138' was published in 1944. Other books, numerous articles, reviews, and lectures followed. His final book, 'The Making of Roman Italy' (1982) deals with the Roman conquest and organization of the disparate peoples and territories of Italy.
Among the centemporary Canadian artists, whose works were presented at the exhibition, were Richard Boyce, Paul Fournier, Kenneth Galloway, Spring Hurlbut, Rosemary Kilbourn, Ora Markstein, Audra Schoblocher, Tobias Stimmer, George Wallace and Edward Tabachnik.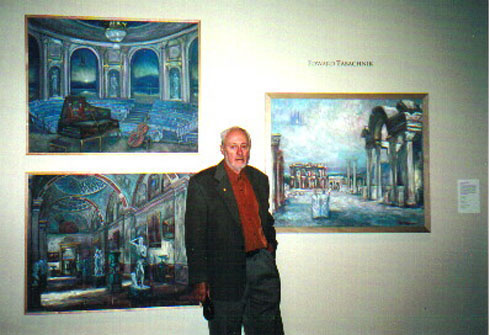 Edward Tabachnik at the opening of the exhibition 'The Classical World and Its Influence' at the McMaster University in Hamilton, Canada.
Four of Edward Tabanchnik's oil paintings on canvas were shown: "Ephesus Lights", "Gallery. Small Hermitage", "Concert, Harpsichord in Hermitage Theatre" and "Sonata of Spring. Primavera".
The Russian-born, 69-year old architect and painter has exhibited his works on several occasion also at the US Museum of European Art.
For his life-long accomplishments for art and culture, several years ago Edward Tabachnik was made Knight of the Order of Alexander the Great for Art and Science. The ceremony, which took place in Toronto, was attended among others by the Grandmaster Wilson Greatbatch. "Edward Tabachnik is a great talent, and a very intelligent personality", said the Grandmaster about the artist.
© PROMETHEUS 101/2005
Keep informed - join our newsletter:
Copyright 2005 Museum of European Art
PROMETHEUS, Internet Bulletin for Art, News, Politics and Science.
Nr. 101, NOVEMBER 2005