---
Treasures from the Hermitage in Toronto
Over 250 masterpieces commissioned by Catherine the Great--exhibition at Art Gallery of Ontario runs to January 1, 2006
By B. John Zavrel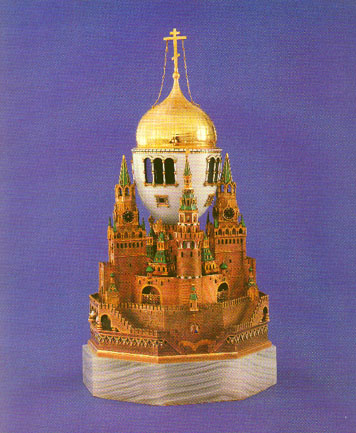 A treasure from Russia: Faberge's model of the Kremlin. Made from precious metals, enameled, engraved and painted.
Petersburg/Toronto (meap) A fascinating art exhibition has opened at the Art Gallery of Ontario (AGO) in Toronto: 'Catherine the Great: Arts for the Empire'. The German-born Empress of Russia, who ruled between 1762 and 1796, was one of the most prominent patrons of the arts in the history of Europe.
She was born on April 21, 1729 in the German Principality of Anhalt-Zerbst (since 1945 called Szczecin, in Poland), and given the name Princess Sophia Augusta Frederica. At the age of 14 she went to Russia to meet her prospective bridegroom, the heir apparent Grand Duke Peter. They were married in 1745 in St. Petersburg. In 1769, six months after her unpopular husband's coronation, Catherine the Great seized power in a coup d' etat, and ruled until she died of stroke in 1796.
During her rule, she used art and culture as a means for a cultural and social transformation. The Russian court in St. Petersburgh became one of the leading artistic centers in Europe, and a magnet for many European artists, scientists, writers, architects and scholars.
The present exhibition in Toronto of selected masterpieces from the Hermitage Museum in St. Petersburg will give the viewer a glimpse into the vast art collection of the Empress. Shown will be more than 250 artworks, many of them commissioned by her personally to the leading European and Russian artists. Among the painters shown are Sir Joshua Reynolds, Jean-Simeon Chardin, Joseph Wright, Antoine Houdon, Anton Raphael Mengs, and others.
But the centerpiece of the exhibition is the golden Romanov Coronation Carriage. During his visit to Paris in 1709, the Czar Peter the Great commissioned it, and it for the first time it was used for the coronation of Peter's wife in 1724. Then, it was used for Catherine the Great's own coronation in 1762, and then by her great grandson Alexander II in 1856.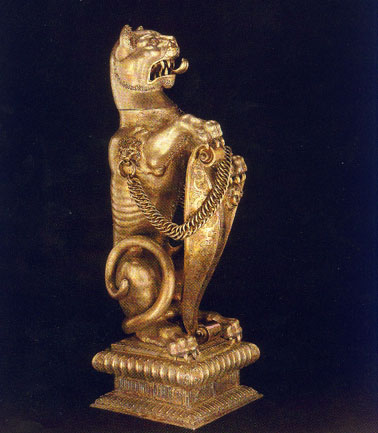 Silver plated leopard vessel from 1601. Originally the property of Czar Mikhail Fedorovich. 38 inches high, cast and gilded.
The exhibition 'Catherine the Great: Arts for the Empire' is shown at the Art Gallery of Ontario till January 1, 2006. The museum is open Wednesdays, Thursdays and Fridays from Noon to 9 p.m., Saturdays and Sundays from 10 a.m. to 5:30 p.m. Closed Mondays & Tuesdays.
© PROMETHEUS 101/2005
Keep informed - join our newsletter:
Copyright 2005 Museum of European Art
PROMETHEUS, Internet Bulletin for Art, News, Politics and Science.
Nr. 101, NOVEMBER 2005