---
Elfi Wörner dies of cancer
Mourning for the widow of the NATO Secretary General Dr. Manfred Wörner
By B. John Zavrel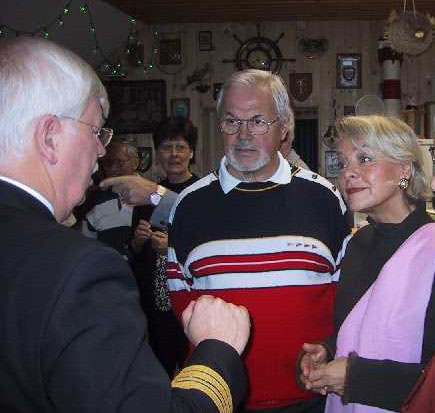 Officers of the German army listen to the widow of the NATO Secretary General Manfred Wörner. Mrs. Elfi Wörner was strongly engaged in the social work for the German army, problem children of military families and in the fight against intestinal cancer. Her own cancer illness has not discouraged her.
© Foto OAG-Archive/Marco-VG
München/New York (bpb) Mrs. Elfi Wörner, the widow of the German Defence Minister and NATO Secretary General Manfred Wörner (born in 1934 in Stuttgart-- died in1994 in Brussels), has died of intestinal cancer on July 4, 2006 in Munich. She was 65 years old. The wife of the minister belonged to the most known wives of politicians in Germany. She showed exemplary social engagement not only during the term of office of her husband, but also afterwards, both in word and deed. She was the patron of several charitable organizations. Her most successful engagement was for the "German Army Social Work Society" and "Special Children in German Military Families".
Still on her 64th birthday, Mrs. Wörner received many congratulations from all over the world. Back then, no one would have believed that she would soon die.
Knight of the Alexander-Order
Elfi Wörner was born on July 31, 1931 in Berlin. Through her marriage to the German Defence Minister Wörner she entered into the public spotlight. She was a Lady Knight of the international Alexander Order Pour le Mérite for Science and Art. She supported cultural activities and belonger to the circle of friends of the Museum für Europäische Kunst at the Nörvenich Castle near Cologne. This applied also to her husband, who had frequented the Castle already when he was NATO Secretary General. Dr. Manfred Wörner was also a polot in the German Air Force. As minister, he frequently visited the military airbase Nörvenich, where the German Air Defence Squadron 31 has been starioned for decades. Since September 27, 2005 the commander of the airbase is Colonel Michael Kuhn.
On the occasion of the death of Elfie Wörner, the Alexander Order ordered mourning flags to be raised at the Nörvenich Castle.
The Grandmaster of the Alexander Order, Dr. Wilson Greatbatch commented: "We remember Mrs. Elfie Wörner with thanks and respect for her life-long engagement for democracy and freedom".
The spokesman for the artists of the Order, the sculptor Kurt Arentz said: "We have lost a worthy member of the society. The positive efforts of Elfie Wörner are for us an obligation for the present and for the future".
The President of the European Art Foundation, John G. Bodenstein, praised her with these words: "The years of our acquiantance with Mrs. Elfie Wörner and the NATO Secretary General Dr. Manfred Wörner were full of trustworthiness and loyalty. A good fortune, to cooperate with such people".
The "Forum for Military Families Society" commented: "With mourning and bewilderment we take leave of Elfie Wörner".
(07.07.06)
© PROMETHEUS 109/2006
PROMETHEUS, Internet Bulletin for Art, News, Politics and Science. Nr. 109, JULY 2006