---
Malethi vocational institute inspired by Swami Rama
Swami Hari returns to USA--over 200 students now attending--new classes opening in fall 2006
By B. John Zavrel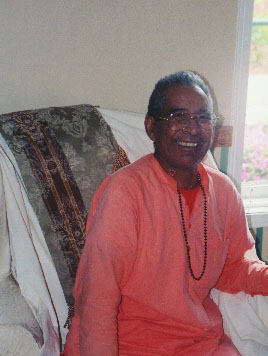 The Himalayan sage Swami Hari in Toronto, Canada in July, 2006.
Toronto/New York (meap) The Himalayan sage Swami Hari has returned to the USA this summer to report to his friends and supporters about the progress of the vocational institute in Malethi (India), the birthplace of Swami Rama of the Himalayas.
The project was started from scratch only a few years ago, with one small building for computer instruction. The first instructor there was Eric Ness, a young American from Minneapolis area. Under the guidance of Swami Hari, the project expanded in a short time in a surprising way: the villagers donated a large piece of land, and the monk from the Himalayas started telling people attending his lectures about the project. First, only pictures and drawings. Later, buildings growing up in the Himalayan mountains.
Swami Hari had a very busy program planned for his 2006 lecture and fundraising tour of the USA, but due to a severe setback in his health he had to drastically limit his traveling.
He will be in the St. Paul/Minneapolis area from July 12 to September 11, 2006 (contact person:Ashwani Dhiman, tel. 763-537-4198, cell 612-799-5841). Swami Hari will be giving morning meditations for about 4 weeks, and seeing people by appointment according to how strong he feels.
Then, from September 12 to October 7, 2006 he will be in Milwaukee (contact person: Nina Johnson, The Yoga Society, 2410 N. Farrell Ave, Milwaukee, WI 53211. Tel. 414-273-1621).
On October 8, 2006 Swami Hari returns to India.
In a recent interview in Toronto, I had a chance to talk to Swami Hari about the progress made since last year in the 'Swami Rama Vocational School' in Malethi. Here is a brief summary:
Swamiji, what is new at the Swami Rama vocational institute?
The institute is open and in operation. We have a very qualified and experiences faculty of teachers, and about 200 students. The get instruction in 4 areas: computer operators, electricians, plumbers and sewing for girls. This fall we will add 2 more areas: carpentry and welding.
From what area do the students come?
The come from the small villages and towns around Malethi, where the population is about 25,000 people. The area is undeveloped, and the school fills a great need for the young people. We have a bus, which picks them up in the surrounding villages and brings them to school in the morning and takes them back in the afternoon. But one bus is not enough, and when we open the 2 new areas (and increase students by about 100), we will have to purchase another bus, at a cost of about $ 20,000.
How do the people in Malethi like at the school? What is the response of the community?
Oh, they like it very much, and they appreciate the opportunities we offer their children to learn a trade. You know, we also started another program-- to teach very young children English. They are in Kindergarden, and first, second and third grades--we have 60 now, and there is much interest in this program.
And how about the herbal garden you started some time ago?
It is growing. By now we have planted over 4,000 trees, fruit trees and medicinal plants.
Swamiji, much work was done on the school buildings in the past years. Have the construction contractors been paid, or is money still owed them?
We still owe quite a bit of money to the contractor. He did much, much work for us and we did not have to pay at once. But now I came to America to show my friends and guru-brothers what has been done, and invite them to come and visit us in Malethi, see with their own eyes what we have done.
Every year I come and people come and give us donation for Swami Rama's work--I am only a postman. I accept the donations here, and give them to the contractor there. So, we still need to raise quite a bit of money to pay him. But with my health problems at this time, I cannot travel around the country as I planned, so I will not get to see as many of our friends as I hoped.
Still, some may come and see me in Minneapolis or in Milwaukee, before I return to India in October. But I tell you, what has been accomplished up to now is a miracle--how could all this happen, I am just a simple monk from the forest. When I first came to America, I did not know anybody and could not even speak English. It is all guru's grace, that's all.
Swamiji, I have heard just a bit about another project you are thinking about starting, a small hospital in Malethi. What can you tell us?
You see, there is much need for medical care in the Malethi area. The nearest hospital is in Rishikesh (about 5 hours by taxi), and is very costly. Often, older people from the outlying areas die before they get there. So, we would like to start with a small hospital--around 150 beds, an outpatient clinic and an ambulance. We have two doctors on board already, and at this time are in the planning stages. This hospital would serve a population of some 25,000 people.
And the Tarkeshwar temple? What is going on there?
Well, your son Christopher was there in January--did he tell you?
Ma Sewa, the lady monk who was taking care of the temple for several years, has come back to USA. She is now staying at the Meditation Center in Minneapolis, and teaching. She is very good, has many good things to teach people here. They should invite her to visit other yoga centers.
The person who now takes care of Tarkeshwar is Shivram, a retired chemical engineer, and a devotee of Swami Rama. The Tarkeshwar temple, where gurudev Swami Rama attained enlightenment, is becoming more and more popular, and thousands of people visit it every year.
Thank you, Swamiji, and may your health improve in the weeks ahead and may you have the strength and blessings of the gurudev to complete this important work.
© PROMETHEUS 109/2006
PROMETHEUS, Internet Bulletin - News, Politics, Art and Science. Nr. 109, JULY 2006