---
DALÍ Jewels Joyas Schmuck Bijoux
Jewels by Dalí in a limited edition for those who love the King of Surrealism
By B. John Zavrel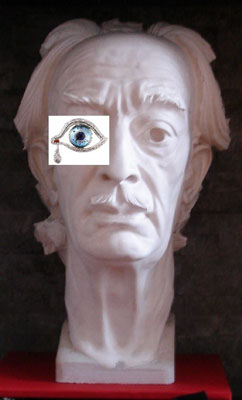 The fascinating Dalí Bust by the sculptor Arno Breker is decorated with the jewel "The Eye of Time". It is one of the precious works, reproduced after the original design by Salvador Dalí from 1949. This work belongs to the Royal Dalí Collection of the Museum of European Art. More on Jewels of Dalí is to be found in the catalogue "Dalí Jewels/Joyas. (order at info@europaeische-kultur-stiftung.org )
© Photograph Marco Bodenstein/Dali-Archive
New York/Berlin (bpb) To some of the most fascinating works of Salvador Dalí belong the Jewels. They were created by first-class jewellers, according to the master's design. It is in the early 1940's, when the history of jewels starts. Dalí became associated with the two jewellers, Ertman and Alemany in New York. The Surrealist designed the jewels that were produced between 1941 and 1958. It is reported that Dali himself supervised the whole process. The project was financed by the Catherwood Bryn Mawr Foundation.
Now, decades later, most pieces of the original collection belong to the Gala-Salvador-Dalí-Foundation in Spain. It is considered to be a treasure of the Kingdom of Spain.
Some selected works from this unique collection have been reproduced in a limited edition of Jewels. They are meant for those, who love the fascinating works of the King of Surrealism. Even as reproductions, the Dalí Jewels are of high quality. The Dalí-Foundation has published the booklet "Dalí Jewels/Joyas", with much more detailed information about the works, materials and the history of the jewels.
This unique catalog shows the Dalí Jewels in color. You can order this publication in English, with additional information. Contact info@europaeische-kultur-stiftung.org
© Photograph Dalí-Archive EKS
In the booklet, Dalí is quoted with a text from 1959: "In jewels, as in all my art, I create what I love. In some you will note an architectonic sense as you will in certain of my paintings; again logarithmic law is evident, again the interrelations of spirit and matter, of time and space."
In his philosophical discussion Dalí brought himself a political aspect into the matter. He wrote down in 1959: "Fed of materialism and serving a philanthropic purpose, the Dalí jewels are a new Ambassador for America to Russia, to Europe, to all the world: a symbol of the cosmogony unity of our century."
The European Art Foundation is intending to show Dalí jewels, medals and small figures in 2008 to honour the cosmopolitan artist in a new way.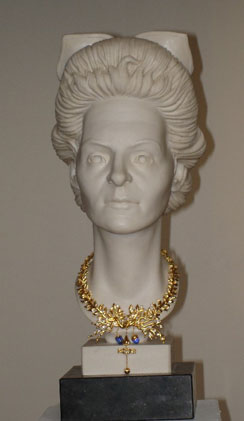 The necklace TREE OF LIFE by Dalí embellishes the marble bust Gala Dalí by K. Donst. Thanks to a limited art edition of this extraordinary necklace, collectors can now buy one. No doubt: a joy for every lady. More details at info@europaeische-kultur-stiftung.org . The life-size bust Gala shows Dalí's muse with the famous hair ribbon made by Coco Chanel in Paris.
© Foto Marco Bodenstein/Marco-VG
© PROMETHEUS 116/2007
PROMETHEUS, Internet Bulletin - News, Politics, Art and Science. Nr. 116, February 2007