---
Shaw Festival 2007
Niagara-on-the-Lake and the Irish Playwright Bernard Shaw
By B. John Zavrel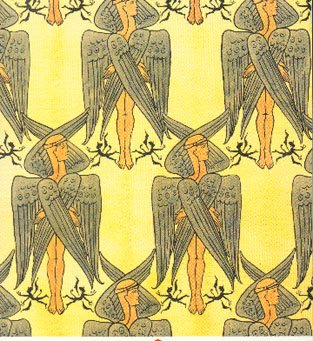 SAINT JOAN by the Irish playwright Bernard Shaw is one of the 2007 series of plays now being performed in Niagara-on-the-Lake, some 20 miles east of Niagara Falls, Canada.
Toronto/Buffalo (meaus) The 2007 season of the SHAW FESTIVAL in the town of Niagara-on-the-Lake, some 20 minutes east from the natural wonder of Niagara Falls, is in full swing. This small, Canadian border town of some 5,000 inhabitants has a rich and fascination history, and a unique vitality and cultural life. To the south across the border is the Western New York, with the towns of Amherst, Clarence and Buffalo.
The Shaw Festival, which has made Niagara-on-the-Lake famous, sells annually some 120,000 tickets to theater lovers from the United States and Canada. The festival actually has 3 theater houses: Festival Theater (the "flagship" with 861 seats), Roayal George Theater (328 seats) and the Court House Theater (324 seats).
The Shaw Festival's artistic director is Jackie Maxwell, now directing her 5th season. "I am never quite sure how you, our audience, choose which of our plays you're going to see", say Maxwell. "Will you decide to follow the meteoric rise and fall of Shaw's iconic 'SAINT JOAN', or revel in the farcial antics of 'Hotel Peccadillo'? Will you enter into the glittering world of Somerset Maugham's 'The Circle' or immerse yourself in the heady combination of Friel and Turgenev in 'A month in the Country'?
But actually, many visitors will come back to see two or more plays, if not the same year, then the next. The performances are fascinating, passsionate and absorbing, and the rich selection of plays each season makes it an easy decision to come back for more.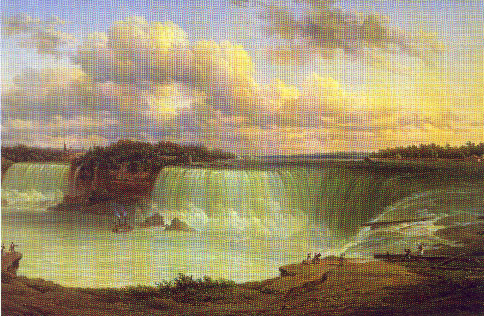 The near-by Niagara Falls, as seen from the Canadian side in the 1820's: a painting by Victor Valentin Sebron.
The SHAW FESTIVAL 2007 program:
FESTIVAL THEATER
Saint Joan, by Bernard Shaw
Mack and Mabel, by Michael Stewart
Hotel Peccadillo, by Georges Feydeau
ROYAL GEORGE THEATER
The Circle, by Somerset Maugham
The Philanderer, by Bernard Shaw
Summer and Smoke, by Tennessee Williams
COURT HOUSE THEATER
A Month in the Country, by Turgenev
The Cassilis Engagement, by St. John Hankin
Tristan, by Paul Sportelli and Jay Turvey
The Kiltartan Comedies, by Lady Augusta Gregory
The Shaw Festival has a well-designed, informative and easy-to-use website at www.shawfest.com
Telephone 1-800-511-7429
© PROMETHEUS 120/2007
PROMETHEUS, Internet Bulletin - News, Politics, Art and Science. Nr. 120, June 2007