Art Gallery
|
Friends of Gurukulam
---
SWAMI RAMA VOCATIONAL INSTITUTE in MALETHI, INDIA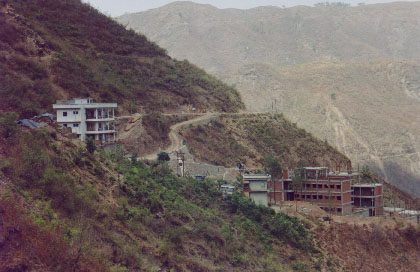 The Swami Rama Institute of Vocational Education & Research, Malethi, India.
Background:
This is a VOCATIONAL INSTITUTE and HERBAL RESEARCH CENTER, currently under construction under the guidance of Swami Hariharananda Bharati.
The construction of the project was requested of Swami Hari by SWAMI RAMA OF THE HIMALAYAS.
It is located in the village of MALETHI, in the Puri Garhwal District of the Himalayan mountains, in the State of Uttaranchal, India. TOLI, the birthplace of Swami Rama, is only about 30 minutes from here, and the ancient TARKESHWAR TEMPLE, where Swami Rama attained enlightenment, is also in its vicinity.
The villagers of Malethi donated some 30 acres of land for this project, planned to be realized in several stages.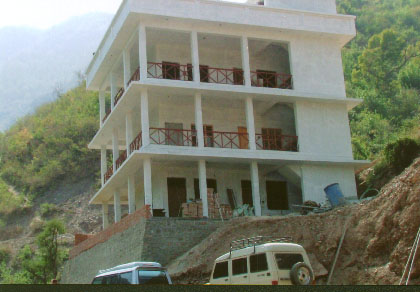 So far, LIBRARY & MEDIA CENTER has been completed.
The initial classes opening in March, 2005 will be:
a) computer data entry
b) garment manufacturing
c) electric wiring
d) carpentry & woodworking
The two semesters will run from March to August, and from September to February. Each class will have initially 15 students, so the first year the school will graduate 120 students.
This project is of vital importance for this underdeveloped area, since there are very few job opportunities here. Many men and young people must go away to the cities to look for work, and mostly old women and small children remain.
The school will provice MEANINGFUL and PRACTICAL vocational education, so that the young people do not have to move away, but can continue to live in their home.
SWAMI HARIHARANANDA, (Swami Hari, as he is affectionately known to his friends and students), is currently doing a lecture tour of the United States, Canada, and Europe to seek donation for this very worthwhile project.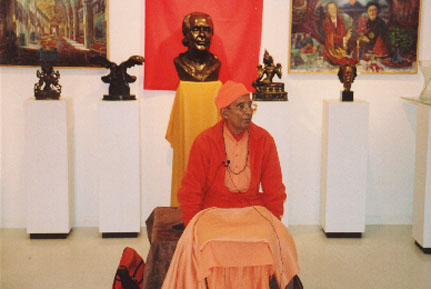 Swami Hariharananda giving a series of six lectures on yoga and meditation at the Museum of European Art in August, 2004.
DONATIONS for this ongoing project should be make payable to: Swami Hariharananda, and mailed to: Consul John Zavrel, Museum of European Art, 10545 Main Street, Clarence, New York 14031, USA.
FOR MORE INFORMATION, in USA please contact:
Mr. Ashwani Dhiman, 7201 36th Avenue North # 123, Crystal, MN 55427, USA. Phone 763-537-4198, cell 612-799-5841. E-mail: virgo_ash@yahoo.com
FOR INFORMATION ABOUT ARRANGING A LECTURE IN YOUR AREA in 2005, please contact:
John Zavrel, Museum of European Art, 10545 Main Street, Clarence, New York 14031. Tel. 716-759-6078. E-mail: zavrel@meaus.com
Swami Hari is interested to visit different cities in the US, and especially in meeting old students of Swami Rama.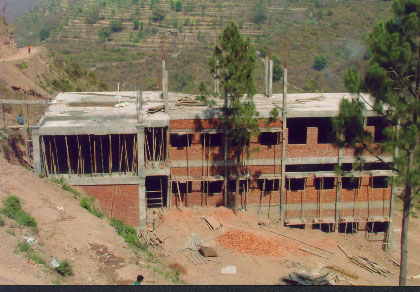 The first of the buildings for CLASSROOMS & ADMINISTRATION is well on the way.
The school will open in MARCH, 2005 for the first class of 120 students.
Keep informed - join our newsletter:
Copyright 2004 West-Art
PROMETHEUS, Internet Bulletin for News, Art, Politics and Science.