Art Gallery
|
Friends of Gurukulam
---
TARKESHWAR TEMPLE
in the Himalayas, India
By B. John Zavrel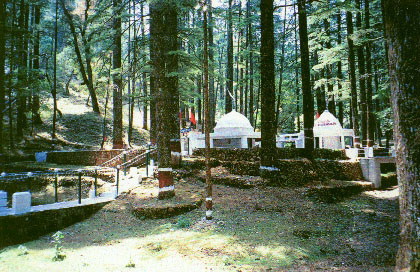 The ancient TARKESHWAR TEMPLE in the Himalayas, where Swami Rama of the Himalayas attained enlightenment. His birthplace was in the nearby village of TOLI. Swami Hariharananda (Swami Hari) spent seven years in this temple.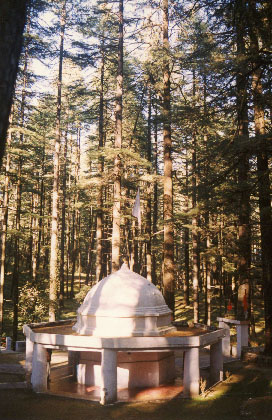 A close-up view of the temple from the back, surrounded by majestic pine trees. From the top of the mountain, one can see the vast Himalayan range with the highest peaks.
Swami Rama of the Himalayas (right) initiates Swami Hariharananda into his tradition. Swami Rama arrived with a group of his students the preceeding night, and the next day, on October 23, 1992 performed the initiation.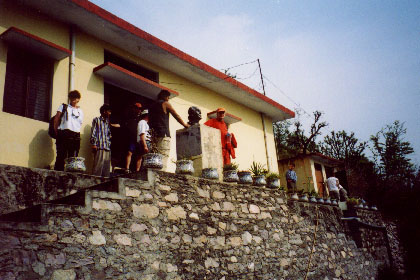 A walking distance from the Tarkeshwar Temple is the village of TOLI, the birthplace of Swami Rama. Recently, a Computer School was establised by the initiative and efforts of Swami Hariharananda (Swami Hari) in Toli. In front of the building is the bronze portrait bust of Swami Rama by the European sculptor Kurt Arentz.
Related articles:
SWAMI RAMA INSTITUTE OF MEDITATION
THE FUTURE OF OUR TEACHING, by Swami Veda
NEWSLETTER #1 from the Gurukulam
*** SWAMI RAMA Institute of Meditation - Basic Information ***
Keep informed - join our newsletter:
Copyright 2004 West-Art
PROMETHEUS, Internet Bulletin for News, Art, Politics and Science.