Home
|
Alexander Order
|
Coats-of-Arms
|
Articles
|
Latest News
---
In Memoriam Ron C. Voth
Selfless engagement for the society, art and democracy
By B.John Zavrel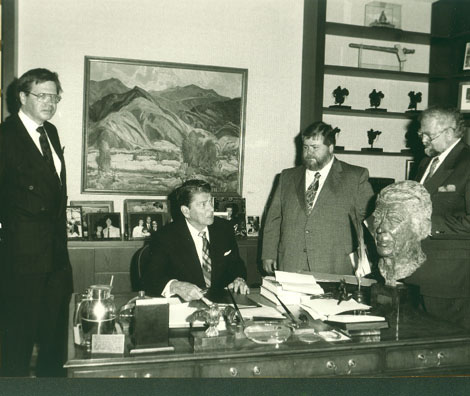 Ronald Reagan at his desk with Consul John Zavrel, Ron Voth and Kurt Arentz in Ronald Reagan's office in 1991.
Photograph: Europaeische Kultur Stiftung/Marco-VG, Bonn
New York/Berlin. Ron C. Voth is no longer with us. He died at the age of 57 on April 7, 2005 in Oxnard, California. The father of two children had diabetes for many years. For many years during his illness, he was working and took care of his family circle. Even in the past few years, when his conditioned became serious, he continued to be active. His character traits were modesty, helpfulness and loyalty.
For his friends in Europe and America, Ron Voth was a good example of an American citizen. He was gifted with many talents, but he never showed off. Beside his profession in the computer field at Apple Computers, he had a great passion for fine art and literature. In this area, he maintained for decades international contacts with artists, museums and non-profit organizations.
The ancestors of Ron C. Voth came to America from northern Germany. They were connected to one of the old royal families in Prussia. In the United States, the emigrants adopted very fast to the new way of life, and became peaceful citizens.
Ron C. Voth always was interested in his roots. He kept contact to Europe and visited the continent. In this cultural dialog, he was a co-founder of the Arno Breker Society International and of PROMETHEUS, the Internet Bulletin for Art and Science. The Order of Alexander the Great honored Voth's merits for art, science and international cooperation with the membership in this society.
Many friends reacted to the sad news with sympathy for the late Ron Voth. Among the condolences we have received, we like to mention at least these two:
Kurt Arentz, sculptor and spokesmen of the EKS Artist Society: "Ron C. Voth will remain in our hearts and memories as a brave man. He will be for the living an ideal of loyal friendship."
John G. Bodenstein, President of the European Art Foundation Berlin: "We appreciate his upright character. Ron Voth never asked what one can do for him, but he always asked how he could help others."
© PROMETHEUS 2005
Keep informed - join our newsletter:
PROMETHEUS, Internet Bulletin for Art, News, Politics and Science. Nr. 95, Spring 2005