---
The Russian poet Joseph Brodsky immortalized in bronze
A monument planned for St. Petersburg, Russia
By B. John Zavrel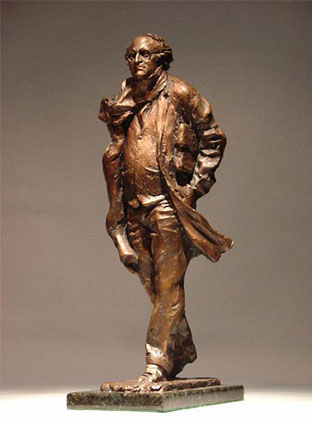 'The Poet Joseph Brodsky'. A bronze sculpture of the poet by Yuri Firsov, which is one of the finalists in the art-competition for a planned JOSEPH BRODSKY MONUMENT in St. Petersburg, Russia.
St. Petersburg/New York (mea) The sculptor Yuri Firsov of Toronto, Canada was selected by the Museum of European Art and the European Art Foundation (EKS) in Berlin as the 'Artist of the Month.'
The Russian-born artist has spent several months in St. Petersburg, Russia in 2005 in connection with the art-competition for a monument honoring the poet Joseph Brodsky. The competition was opened two years ago on the occasion of St. Petersburg's 300th anniversary in 2003, and Yuri Firsov is among the finalists in the art competition.
A small version of the proposed monumental sculpture of the poet Brodsky has been created by Firsov in bronze. The vitality and striking likeness of the poet has been masterfully captured by Firsov. He was born in Russia in 1960, and studied at the Mukhina Arts Academy, and taking part in a number of national and international exhibitions. In 1991 he arrived in Toronto, Canada, where he now has his main studio. Here originated his recent works like "Rudolf Nureyev in Le Corsair", "Diana, Princess of Wales', "Rudolf Nureyev", and others (www.firsovart.com). His works are in museums and private collections throughout Russia, Europe and North America. The US Museum of European Art in New York has several of his works in its 'Eleanor & Wilson Greatbatch Collection', established in honor of the inventor of the heart pacemaker, Dr. Greatbatch and his wife Eleanor.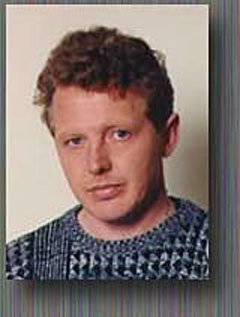 The sculptor Yuri Firsov.
The poet Joseph Brodsky (* 24.05.1940 +28.01.1966)
As a youth, Brodsky was not the studious type. After the seventh grade he left school and found his first job as a miller in a factory. Later he worked on a number of different jobs--in a morgue, as a stoker, and as a collector of specimens on a geological expedition. He wrote his first poems in 1957.
In the late 1950s he was already known in the literary circles of Leningrad (formerly, and now again St. Petersburg). It was this time when he started to speak in public, mainly at universities. His personality came across not only in the text of his poems, but also in his way of reading, which deeply affected his listeners. His readings were such intense experiences, that his listeners were often overcome with emotion.
For two years, from 1963 to 1965, he was sent into exile in a small village in Siberia. Some years later, in 1972 he was able to emigrate to USA. He taught the Universities of Michigan, Columbia and New York, lecturing on the history of Russian poetry and theory of verse. In that year he published his first compilation of poems, 'A Halt in the Wasteland'.
More successes followed. 'Less than One', a collection of essays in English, was acclaimed in 1986 as the best book of literary criticism in USA, and in October 1987 he became the youngest winner of the Nobel Prize for Literature. By the early 1990s Brodsky had become an "American" poet in every sense of the word. In 1991 he was appointed Poet Laureate, and spent two years at the Library of Congress in Washington, D.C. He passed away suddenly of a heart attack on January 28, 1996. He is burried at San Michele, the "world's most beautiful cemetery", in Venice, Italy.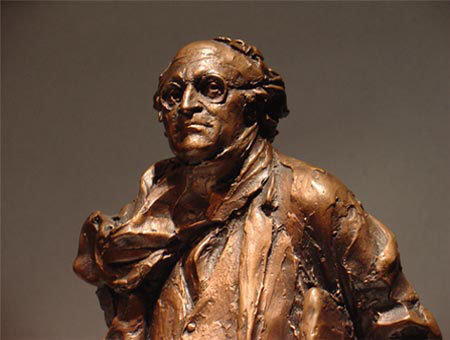 'The Poet Joseph Brodsky', detail view of the bronze sculpture by Yuri Firsov. The Museum of European Art and the European Art Foundation (EKS) in Berlin have selected the Russian-born sculptor as the 'Artist of the Month.'
© PROMETHEUS 98/2005
Keep informed - join our newsletter:
Copyright 2005 Museum of European Art
PROMETHEUS, Internet Bulletin for Art, News, Politics and Science.
Nr. 98, AUGUST 2005