Home | Alexander Order | Coats-of-Arms | Articles | Latest News
---
Andy Warhol Stamp from USA
Great honor for this famous pop-artist and world citizen
By B. John Zavrel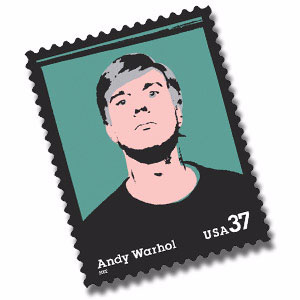 Pop Art Icon Andy Warhol on U.S. Postage Stamp. This 37 cent-stamp became worldwide a collectors' item. The portrait of Warhol reminds of his style of making portraits of famous people such as Marilyn Monroe, Elvis Presley and Mildred Scheel (German Cancer Aid)
Foto: USPS, Washington
New York (bpb) Pop Art Icon Andy Warhol debuts on U.S. Postage Stamp. In the meantime, the stamp became a collectors' item worldwide. The famous artist with his roots in Czechoslovakia is known intenationally. Now, both the Czech Republic and the Republic of Slovakia, as well the United States consider Warhol as one of their great sons. But Warhol is more than that: due to his popularity, he became a world citizen. He made everyday objects, such as Campbell's soup cans, into works of art.
The Andy Warhol stamp unveiling took place at the Gagosian Gallery, 980 Madison Ave. New York. The new stamp was first issued in the summer of 2002. New York Metro Area Vice President for the Postal Service, David L. Solomon, served as the unveiling official. Other guests at the event included filmmaker and producer Ric Burns, Bob Monk (Gagosian Gallery) and Martin Cribbs of The Andy Warhol Foundation.
Warhol's serial images of celebrities such as Marilyn Monroe and everyday objects are some of his best-known works. His career also included ventures in design, photography, film, television, writing and publishing.
After graduating in 1949 from Carnegie Institute of Technology (now Carnegie Mellon University) in Pittsburgh with a fine arts degree, Warhol moved to New York City and began his career as a commercial illustrator. By the mid-1950s Warhol had made a name for himself in the advertising world with his whimsical and award-winning illustrations. Warhol's paintings achieved instant notoriety in 1962 with his solo exhibition of the now famous Campbell's Soup Can paintings at the Ferus Gallery in Los Angeles.
His studio, known as the Factory, became a popular New York haunt for an ecclectic group of artists, socialites, and musicians. Warhol's influence continues in art and film, as well as in a wide range of other creative endeavours throughout contemporary popular culture. Warhol died in New York City in 1987. Warhol maintained regular contacts to Europe. In Germany, the art-publisher Joe F. Bodenstein and Hermann Wünsche introduced Warhol to the Chancellor Willy Brandt. Bodenstein brought him to the German First Lady Mildred Scheel. Warhol portrayed this famous lady and founder of a leading institution, the German Cancer Aid.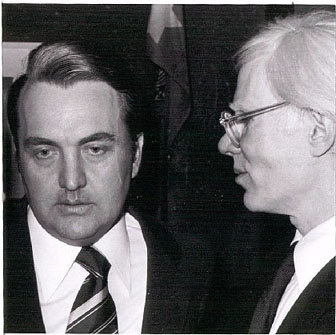 Andy Warhol and Joe F. Bodenstein in Bonn, Germany. Warhol visited regularly Western European countries. He made colorful portraits of Brandt, Mildred Scheel, Ludwig van Beethoven and Johann Wolfgang von Goethe.
Foto: Marco Bodenstein, Bonn
Artwork on stamps from Dali to Marlene Dietrich
The stamp art features Andy Warhol's Self-Portrait from 1964. Based on a photo-booth photograph, the image of silkscreen ink and synthetic polymer paint on canvas is one of several versions in varying colors. The work is now in the collection of The Andy Warhol Museum in Pittsburgh, Pennsylvania. A detail of a photograph taken by Factory photographer Billy Name and entitled Andy with Self-Portrait, 1967 appears on the selvage.
To honor artists by publishing stamps with their portraits or their works has a good tradition. Some of them got a stamp already during her lifetimes, such as the sculptor Arno Breker (1900-1991). Germany has dedicated to Marlene Dietrich (burried in Berlin) a stamp after her death. The republic of France published a stamp of Salvador Dali. Among the others honored this way we find: Jean Cocteau, Aristide Maillol, Auguste Rodin, Picasso, Chagall, Käthe Kollwitz, Max Liebermann, Ernst Jünger, and Grete Weisser.
Copyright 2003 West-Art, Prometheus 89/2003
Keep informed - join our newsletter:
Copyright 2003 West-Art

PROMETHEUS, Internet Bulletin for Art, Politics and Science.

Nr. 89 Fall 2003