Home | Alexander Order | Friends of Gurukulam | Latest News
---
Bengali Dal Soup
(Sweet and Sour Bengali Lentils)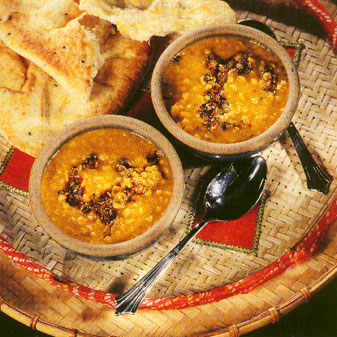 Bengali Dal, a favorite soup of the author. From the excellent bookbook 'The Indian Spice Kitchen' by Monisha Bharadwaj.
Prep time: 20 minutes, plus 1 hour soaking.
Cook time: 30 minutes
INGREDIENTS:
1 cup lentils (first soak in water for 1 hour)
4-6 cups water
1 teaspoon turmeric
salt, as desired
2 teaspoon sugar
3 tablespoon corn oil
2 tablespoon panch phoron
4 dried red chilies
2 bay leaves
1 teaspoon mango powder
2 teaspoon raisins
Simmer lentils in water until soft and mushy.
Add the turmeric, salt, and sugar, stir well.
Heat the oil in a small pan and add the panch phoron. When it crackles, add the red chilies, bay leaves, mango powder and raisins.
Saute for a minute and pour the oil and the spices over the lentils.
Add water to adjust the consistency for a soup. Bring to a boil and serve hot.
From "The Indian Spice Kitchen", by Monisha Bharadwaj. Hippocrene Books, Inc., 2000.
Copyright 2004 West-Art, Prometheus 91/2004
PROMETHEUS, Internet Bulletin for Art, News, Politics and Science, Nr. 91, Spring 2004