Home | Alexander Order | Friends of Gurukulam | Latest News
---
Ahimsa Cookbook:
Cuisine for the Compassionate Vegetarian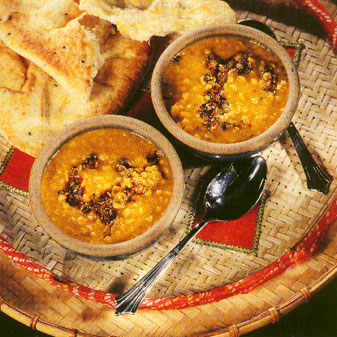 Bengali Dal, a favorite soup of the author. From the excellent bookbook 'The Indian Spice Kitchen' by Monisha Bharadwaj.
TRANSITIONING TO VEGETARIANISM
There are many people who are interested in becoming vegetarians, but do not do so because they do not know enough about nutritional requirement, how to cook, or have enough interesting and simple recipes to prepare. Still others dive into vegetarianism with good intentions, but either become ill or get bored for those same reasons.
The purpose of this article is to provide enough basic information to allow interested people a chance to explore a healthy diet and lifestyle. What makes this more unique than other resources, however, is that I have based the material on my own experiences, on my own successes and failures.
The inspiration is to help those people live a better lifestyle who, intimidated by the confusing amalgam of scientific information, fad diets and gluttony of cookbooks and nutritional guides, have as of yet not made the leap. It is also an offering to those who have taught me in the past few years.
Even with the increasing popularity it is difficult for many people to understand the possible benefits of or to begin and maintain a healthy vegetarian diet. Many successful vegetarians have reported benefits in mental, physical, and emotional well-being. I can attest to the positive changes that result from a vegetarian diet, and hope that you may succeed and find joy in it as well.
For convenience, most of the recipes mentioned are highlighted. Clicking on the name will open a link with the recipe.
WHY I BECAME A VEGETARIAN
Two years ago, I was a student living on campus, and was not happy about the kind of food available. I wasn't comfortable eating meat products, and my overall health was pretty poor. I think that there had been a latent inclination in me for some time to become a vegetarian. One book I read was called "Fast Food Nation: Story of the American Meal," by Eric Shlosser. It dealt largely with how unhealthy and unsanitary fast food in America is, and the terrible conditions and the horrifically sad process of how animals are raised in America purely for consumption--they are fed growth hormones, farmers chop off chicken beaks, baby cows are killed for veal, and baby animals are separated from their mothers. Also how animals were slaughtered in factories, not inspected, and the worst meat--or should I say most inedible animal product--was the grade D meat, and was sold to schools as part of a federal program. Perhaps the most alarming practice is the grinding of dead cows into feed, and being fed to other cows (which are naturally vegetarians). Some people think this is associated with mad cow disease. This is reminiscent of a quote from Upton Sinclairs' "The Jungle". In interviewing a factory worker over which parts of the animal went into the meat products, he replied, "We throw in everything but the oink."
There were many reasons for my becoming a vegetarian--primarily it was to obtain a high degree of health and clarity in body and mind. Vegetarian food develops this state, and I could not live with a clear conscience as a meat-eater, which would support the horrendous practices of large-scale agriculture.
HOW I TRANSITIONED
It was very difficult learning how to cook, and I was a little intimidated at first. I learned a lot from working with and watching my Dad cook, and I just tried a lot of different recipes. We have many cookbooks here, so it was just a matter of finding things that looked good, and experimenting with them. Once one gains an interest in food, a whole new world is opened--understanding the effects of food in combinations, at different times of the day, the effects of herbs on each other and on yourself. Another important help was my friend Michael Smith from Minneapolis, who sent a letter of encouragement, some recipes (see below), and much helpful advice. Perhaps the best source of for advice, help, and recipes are friends and family members. It is surprising how willing people are to share their experiences and knowledge with you, and how much other people know.
HOW TO TRANSITION
For a young person it is important to get proper nutrition, since the body still needs to develop. Good health is a sound mind in a sound body, so in order to evolve as a person and cultivate a clear and peaceful mind, one must start with the grossest form of the personality--the physical body, or annamaya kosha (what some call "the food sheath.") Many people interested in vegetarianism ask themselves, "How can I make sure that the vegetarian diet gives the nutrients my body needs? What kinds of foods should I include in my diet?"
There is a vast amount of information on certain vitamins and minerals that I am still learning about and exploring. As a precaution for the beginner, I would definitely recommend taking a vitamin supplement and B12 just as a precaution. Protein powder can also be mixed into a shake.
I think the most important foods to consume are basmati rice, grains, soups, and vegetables. These should be cooked, with mild spices--turmeric, cumin, and coriander are very good for digestion, taste and general health. Salt is important in proper quantity for cellular function, but should be regulated--too much can upset the cardiovascular system and cause water retention. There aren't too many restrictions, however, as long as everything is taken in moderation. Perhaps the best rule is to eat a variety of foods, and listen to your body--if you have a craving, it may be that you are in need of a different nutrient, or more calories.
While a proper diet is really very simple, especially if approached intuitively, it can also get very complex--as deep as you're willing to explore. A study of the Ayurvedic science of herbs, foods and their interactions for each body type is extremely interesting and beneficial. Ayurveda speaks of three primary Doshas (body constitutions): Vata, Pitta, and Kapha, and four additional combinations of them. Each person may use different foods and herbs to help balance their Doshas, and avoid foods that would aggravate them. So Western nutritionists are rather ambiguous with their diet advice sometimes because there is not one type of personal constitution that they base their studies on--their 'average person' simply does not exist.
A common question is whether or not the transition should be abrupt or gradual. Although there was one specific day where I really made a resolve to not eat meat anymore, the process leading up to that took a few months. For most people, I would recommend slowly eliminating certain foods from the diet. For example, one would initially eliminate red meat, then poultry, then fish and eggs, and simultaneously begin to eat entirely vegetarian meals for an increasing number of days each week. Regularity helps. A very detailed and helpful method of transitioning is detailed in Dr. Rudolph Ballentine's "TRANSITIONING TO VEGETARIANISM", a must read. Another very important, and shorter read, is the introduction to HIMALAYAN MOUNTAIN COOKERY by Martha Ballentyne, who worked directly with Swami Rama of the Himalayas in developing the recipes.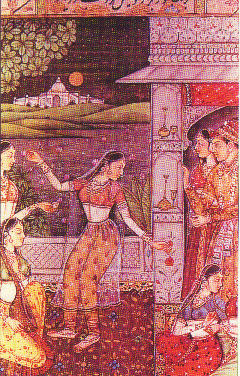 Spices are not only the key to Indian cooking, but are used also in women's beauty preparations.
MEALS:
BREAKFAST
Breakfast is something that I am still trying to figure out. I have a bad habit of eating snacks late at night, so I am usually not too hungry in the morning. And it just doesn't feel right to stuff myself before I have even woken up-I've found that not eating right away generally results in a much clearer mind. The amount and type of food eaten for breakfast should be widely variable amongst individuals, but it is strongly recommended to clear the bowels in the morning before eating any other food. One helpful method is to drink hot lemon water with a little honey upon waking to activate the bowels.
I would consider a simple shake--milk, orange juice, and some fruit to be good, but too much milk in the morning doesn't agree with me. (I usually drink soy milk rather than milk, however). Lately I've been eating YOGURT MASALA with some grapes. Many people find oatmeal to be very nourishing.
LUNCH
What is my favorite thing to eat for lunch?
The Indian Buffet at Tandoori Indian Restaurant!!!
However, when I have school I usually take something--a soup (lentil or sambar), or some KICHARI (a dish of rice, mung dahl and spices). Another option is vegetarian sushi that I can buy at school, fresh fruit or yogurt is good as well. I really prefer to take my own food, so I can control what goes into it, the proportions, and how it is prepared. Many restaurants use an excess of salt or oil, or use certain bulk preparation methods that aren't completely conducive to a nutritionally conscious diet.
DINNER
It varies according to what else I've eaten during the day, and what my plans are. I really like to eat, so sometimes it is early, such as between 5 and 6. Generally it is better to eat a few hours before going to sleep, to prevent indigestion and bad dreams. A easy practice to follow is that after a large meal, one lies down on their left side with deep, relaxed breathing for 5-10 minutes. This activates the parasympathetic nervous system through opening the right nostril and its respective channel, allowing for better digestion and absorption. Exercise and heavy intellectual work are best avoided immediately after a large meal as well.
My household is a little strange in that everyone has different schedules and eating patterns. When I started I more or less cooked everything myself, now my brother and father will cook once a week. It is nice to have different people in the family cook a large meal for everyone else…those who are used to this arrangement probably find it very enjoyable.
Cooking a good meal can sometimes be time consuming, so I'll usually make enough for at least 2 or 3 meals. I used to freeze some, now I prefer to just refrigerate it and use it while it is relatively fresh. As my tastes have adjusted, I really prefer fresh food.
While now I often just cook vegetables however I want, without recipes, there are some favorites that I make for my family. I think one of India's greatest gifts to mankind is NAVRATAN KORMA-"NINE JEWEL CURRY". I also like prepare OKRA IN YOGURT, TIAN DE LEGUMES, and CABBAGE CHORCHORI. These are more vegetable oriented, but some delicious rice/dahl dishes that I enjoy are SPICY DAHL WITH SPINACH, MUGHLAI DAHL (CREAMED BLACK LENTILS), and BHARWAN TAMATER (STUFFED TOMATOES). A wonderful side dish is RAITA, whipped yogurt with spices and vegetable. It is very cooling when eating a spicy curry. I recently discovered a great tasting curry that is probably the most authentic tasting Indian dish I have made, called KASHMIRI DUM ALOO.
SOUPS
I really enjoy cooking and eating various kinds of soups, usually prepared in large batches and used for a few days. Soup can also be frozen, but I prefer to eat only fresh foods whenever possible.
My favorite soup is called BENGALI DAL. It is very easy to make, and stars one of my favorite ingredients--a spice mixture called Panch Phoron.
Some other soups that I make are RASAM (South Indian Tamarind Soup), CARROT SOUP, and SWAMI SAMBAR SOUP.
DESSERT
I have a very strong sweet tooth--in fact, I am a glutton around sweets, and therefore have tried some nice recipes. APPLE HALWA is a very simple dish that belongs to the heavenly dessert family of apple pie and apple crisp. KHEER is another delicious, traditional Indian desert, made of cooked rice and milk.
CHAI
I am a third generation drinker of INDIAN CHAI, learned from my father, as taught by Swami Hari of Tarkeshwar. The secret ingredient? Extra sugar! Chai is tea cooked in water with ginger and some additional spices, then boiled with an equal part of milk. With honey, it has very soothing and nourishing properties. Swami Veda really enjoys SAFFRON MILK in his thermos late at night.
"IF YOU LIVE ALONE IN THE HIMALAYAS, CHAI IS YOUR ONLY FRIEND." - SWAMI HARI
FOODS TO AVOID
Foods that I avoid are meat and fish, eggs (some vegetarians disregard this, I only eat them if I am too busy to cook enough to stay healthy), refined sugar (many vegetarians don't use sugar, but instead use honey, turbinado and molasses, which are good alternatives), soda, and coffee (it is over stimulating, diuretic, and negatively affect the nervous, digestive, and renal systems). Some things that I am trying to reduce are hot spices (in Ayurvedic thought, they increase Rajas, or the active, outgoing nature of mind, and also may increased blood pressure, hypertension, or acid reflux), garlic and onion, ice cream, milk (not necessary for everyone, although I drink soy milk and rice milk), and large beans (I prefer to eat only mung dahl, lentils, chana dahl, and sometimes foods prepared with kidney beans, such as HUMMUS).
THE SCIENCE OF SPICES
"EVEN IN INDIA, A GOOD COOK IS CONSIDERED TO BE ONE WHO USES SPICES NOT IN EXCESS, BUT WITH DELICACY AND SUBTLETY, TO COMPLEMENT THE NATURAL FLAVORS OF THE FOOD, TO IMPROVE ITS DIGESTIBILITY, AND TO ADD HEALING AND HEALTHFUL PROPERTIES TO IT."
From the "HIMALAYAN MOUNTAIN COOKERY"
The keystone for the art of Indian cooking is the use of spices.
Many commonly used spices are turmeric, cumin, coriander, bay leaf, cayenne, fenugreek, fennel, cardamom, mustard seed, saffron, tamarind, black pepper, clove, asafoetida, ginger, ajwain, and cinnamon. There are also many special mixtures of spices--these are traditionally ground and mixed by hand, but may be bought in an Indian food store. These include Garam Masala, Panch Phoron, and others. Spices serve many functions--they help digestion, provide interesting tastes, and serve many medicinal purposes.
A student of Ayurveda may apply the ancient Indian knowledge of herbology to cure disease and maintain health through the use of spices and herbs in cooking. Two excellent reference guides for this are THE YOGA OF HERBS and AYURVEDIC HEALING, by Dr. David Frawley (Pandit Vamadeva Shastri).
Spices are most potent and beneficial when cooked properly.
First, about 1-2 tablespoons of GHEE should be heated on low to medium heat. Then the spices should be added and stirred with a wooden spoon, cooked for about two minutes. If using some ingredients like mustard seeds, they will pop when cooked enough. After this the vegetables should be added, using a little extra water, if desired, to build up a sauce.
If cooking onions, they should be cooked in between the spices and the vegetables, and only partially cooked before adding the vegetables.
For soups, the spices could be either fried in ghee first or put directly into the boiling water. There are no firm rules in the kitchen--recipies are only guidelines, one should follow their own intuition and experience.
TALES OF DEVIPRASAD: Be Vigilant
(adapted from Traditional Indian Cookery, by Jack Santa Maria)
There was once a famous cook named Ram of Bangalore who gave these parting words to his pupils: "My sons, I have taught you all I know save for one thing and that you may only guess by strict and thorough observation of your teacher." The young cooks each went their own way, and some years later, two of the pupils attended a cooking competition being held by a local nobleman. The goal was so create a dish equal in merit to one by the legendary Ram of Bangalore, who was judging the competition.
In the final meal of the competition, no one had yet prepared anything of equal greatness to that of Ram of Bangalore. The first pupil was beside himself in excitement, as he had remembered everything that the master Ram had taught him and created a masterpiece. However, the other pupil was declared the winner, with Ram saying that his dish embodied all his teachings. But the disappointed pupil protested, saying that Ram taught no one all of his secrets.
Ram came forth and explained: "I DID WITHOLD ONE SECRET, THE ONE SECRET WHICH EVERY PUPIL OF MINE WAS TO FIND FOR HIMSELF. I WISHED MY PUPILS TO GAIN FULL MASTERY OF THEIR ART. TO DO THIS THEY HAD TO DISCOVER THEMSELVES AND ON MAKING THIS DISCOVERY THEY HAD TO BE THEMSELVES AT ALL TIMES. THIS YOUNG MAN'S DISH, UNLIKE THE ONE WHICH HAS WON THIS COMPETITION, TASTES EXACTLY AS I WOULD HAVE MADE IT. I CONCLUDE, THEREFORE, THAT HE HAS NOT MASTERED THE FULLNESS OF MY TEACHING."
COMMON MISTAKES
I think the most dangerous mistake is when people become vegetarian to lose weight, not as a health precaution, but because of the unnecessary pressure that society places on people to look or act a certain way--this is most often seen in young people, especially young women, and should be avoided.
Another mistake is when people stop eating meat for a reason such as animal rights, but forget about the right for themselves to have a healthy body. The intention is good, but if one's diet is cereal and chocolate cake three meals a day, it really shouldn't be called a vegetarian diet. A common misconception in preparing food for vegetarians is that a diet consisting of cereal, spaghetti, and bread is nutritious and enjoyable. I have reverted back to this during periods in which I overcommitted myself to external activities--believe me, it is not healthy.
College, especially, is a time when many young people get to experiment with themselves and make their own choices; it is a time when many people decide to stop eating meat. However, while they have taken a very important step in resolving not to eat animal products, they do not have the right foods, or the right knowledge, to eat a healthy diet.
When I transitioned, I knew that to be healthy, I would have to prepare my own food and study nutrition-- not just through books, but through the effect that diet had on my body and mind. A vegetarian diet should not be viewed as deficient, or lacking, or great asceticism--if practiced correctly, vegetarianism is easy, healthy, and fulfills all nutritional requirements.
Perhaps a smaller mistake is when one is accustomed to a typical western meal of steak, potato and green beans, they either just eliminate the steak or replace it with some sort of meat-like soy product. This isn't necessarily a bad thing, but as discussed above, a vegetarian meal is more than eliminating or replacing meat, but is a proper meal in itself, and therefore may sometimes need an entirely fresh outlook to begin. Often the meal may just be a large stir-fry of tofu and veggies, or a plate of fruits and grains, or a large assortment of small dishes-grains, veggies, chutneys, yogurt, without necessarily having a centerpiece, the role that meat or fish usually serves.
ATTITUDES
The first step to a healthy meal is a healthy preparation of a meal--one cooked properly, with a peaceful attitude, with love, and of course, pure, organic, fresh ingredients. There is just something about having a meal cooked just for you by a mother or other loved one that gives the meal better taste on a subtle level.
I think an important thing to do before eating is just to close ones eyes, and take a minute to relax one's breath, body, and mind. This is one benefit, however unwittingly, for those who do a ritual before eating. It calms and focuses the mind, removing potentially disturbing and distracting thoughts from the conscious level of mind. It also has the conditioning effect of preparing the body for digestion, like Pavlov's dog, who would begin salivating before meals at the sound of a bell. If one is overly agitated during a meal, the mind will be agitated, the food will not digest well, and one will probably eat more than is needed. This habit causes illness and creates many disturbances.
Some people like to get the most amount of pleasure out of everything they do, eating included. How can one maximize their eating pleasure? By concentrating on their food. Traditionally, food is taken in silence, so it can be fully enjoyed and appreciated. Don Gerrard wrote an interesting book about attitudes towards eating, called ONE BOWL. Another interesting read is called The Yoga of Nutrition, by the French philosopher Omraam Mikhael Aivanhov. An entirely different attitude towards food may be seen in Buddhist monasteries, where certain practices are done to increase awareness of food and also to make it more mechanical, so that attention and energy may be channeled elsewhere for growth. Some would go so far as to say that is the sole purpose of food--to provide the body with enough energy to fulfill one's duties and cultivate a harmonious mind. The Yogi only eats enough to fulfill this and no more, a primary principle of ahimsa, or nonviolence--that one should use only as much as is absolutely necessary.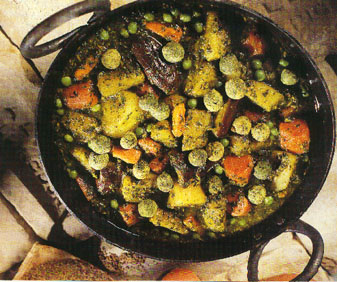 Mixed Gujarati Vegetables, one of 200 authentic recipes from the book 'The Indian Spice Kitchen'.
RECOMMENDED COOKBOOKS
Himalayan International Institute Staff: THE YOGA WAY COOKBOOK: NATURAL VEGETARIAN RECIPIES
Martha Ballentine: HIMALAYAN MOUNTAIN COOKERY
Monisha Bharadwaj: THE INDIAN SPICE KITCHEN
This book is a very nice both as a cookbook and as a reference source, because it goes into detail of the nature of many common ingredients of Indian cooking, their use, and medicinal properties.
Amadea Morningstar, Urmila Desai: THE AYURVEDIC COOKBOOK
Jack Santa Maria: TRADITIONAL INDIAN COOKERY
RECOMMENDED BOOKS ON NUTRITION
Dr. Rudolph Ballentine: TRANSITION TO VEGETARIANISM: AN EVOLUTIONARY STEP
Dr. Rudolph Ballentine: DIET AND NUTRITION: A HOLISTIC APPROACH
Dr. David Frawley: AYURVEDIC HEALING
Dr. David Frawley: THE YOGA OF HERBS
Don Gerrard: ONE BOWL
Omraam Mikhael Aivanhov: THE YOGA OF NUTRITION
John Robbins: DIET FOR A NEW AMERICA
Eric Shlosser: FAST FOOD NATION: THE DARK SIDE OF THE ALL-AMERICAN MEAL
---
*** MY FAVORITE RECIPES ***
SOUPS
Bengali Dal (Sweet and Sour Bengali Lentils)
Rasam (South Indian tamarind soup)
MAIN DISHES
Bharwan Tamater (Stuffed tomatoes)
Navratan Korma (Nine Jewels Vegetable Curry)
Tian De Legumes (Layered Vegetable Gratin)
Cabbage Chorchori (Bengali Cabbage Stir-Fry)
DESSERTS, SWEETS, CONDIMENTS, ETC.
CHAI (Indian Tea with Milk & Spices), AND OTHER BEVERAGES
Copyright 2004 West-Art, Prometheus 91/2004
Keep informed - join our newsletter:
Copyright 2004 West-Art
PROMETHEUS, Internet Bulletin for Art, News, Politics and Science, Nr. 91, Spring 2004