---
Birthday Present for Ronald Reagan
New painting for the Collection "Great Personalities of Our Time"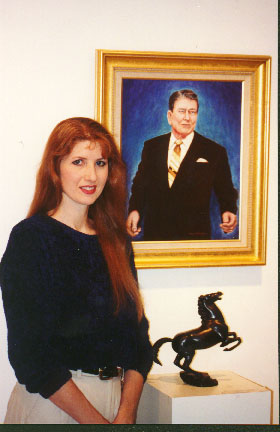 The painter Mary McAndrew with her painting "President RONALD REAGAN" at the unveiling ceremony at the US Museum of European Art.
New York/Clarence. The former President Ronald Reagan has been honored with a new painting. It is a present of the US Museum of European Art and the European Art Foundation on the 91st birthday of the President on February 6, 2002.
The work of art was created by the painter Mary McAndrew.
"The painting will belong to the Collection of "Great Personalities of Our Time", says Consul B. John Zavrel, director of the US Museum of European Art (www.meaus.com) The work was brought to the attention of the President and the former First Lady by a special message. Consul Zavrel, who knows President Ronald Reagan personally, supports collections of paintings and sculptures of American Presidents.
During Reagan's presidency, the Museum has commissioned a portrait-bust by the European sculptor Kurt Arentz. The work was personally handed over to Ronald Reagan. It belongs now to the Presidential Library. "President Reagan agreed to allow other artists to make his portrait in different styles and material", Zavrel remembers. "This is the way of a Homage to the President, in which also young artists can participate." Artists who like to contribute to this presidential collection should make their offer to John Zavrel, Museum of European Art, 10545 Main Street, Clarence, New York 14031 (zavrel@meaus.com).
Mary McAndrew is a young talented artist who lives in Clarence, New York. She specializes in portraits and landscapes (http://www.marymcandrew.com).
Keep informed - join our newsletter:
Copyright 2002 West-Art
PROMETHEUS, Internet Bulletin for Art, Politics and Science.
Nr. 82, Spring 2002